Message from the President
CSA-SCS President 2016 - 2017
Dr. Howard Ramos, Dalhousie University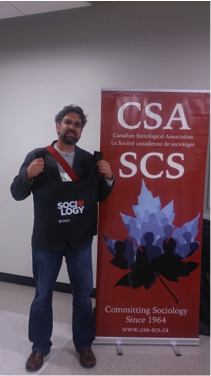 As we enter 2017 and the Winter term it might feel like the world has entered into non-sociological times. The Oxford Dictionary selected "post-truth" as the word of the year, fake-news is ubiquitous, polling has been questioned, academics are labelled as elite, not to mention the rise of nativism, misogyny, and the election of Donald Trump. All of these trends are driven by fear and demands for over-simplified solutions to pressing problems.

Yet, despite these trends, Canada appears to be an exception. Indeed, there have been many opportunities for sociologists to 'commit sociology' by promoting the political and social literacy needed to understand our social world. During the past academic year the Canadian Sociological Association did this by issuing a statement of concern against the Russian Federation's decision to designate the Yuri Levada Analytic Center as a "foreign agent" and supported a similar statement by the American Sociological Association and British Sociological Association. The association also worked with the Federation of Humanities and Social Sciences to promote Reconciliation with Indigenous peoples in the 2017 Congress, and, by dedicating space for recognition of Indigenous territory and acknowledgement at the start of our conference this spring. The association is also dedicating a panel during the conference to discuss what sociologists can do in non-sociological times and has introduced roundtables and other new events to help promote an engaged and critical sociology. We look forward to seeing you at the annual conference at Ryerson.

Sociologists across Canada have been active in countering the cooptation of their work and sparking important public debate, as seen by Porter Prize winner Vic Satzewhich's intervention on the screening of immigrants for "Canadian values." Ardath Whynacht also recently sparked an important discussion on family violence, victims and the intersection with issues of mental health. Many others are regular and active public intellectuals and make valuable policy contributions to issues of race and ethnicity, immigration, sexuality, gender studies, critical health, and much more.

The expertise of our association is also sought after. Executive Administrator, Sherry Fox will be a key speaker in the Federation of Humanities and Social Sciences webinar on membership recruitment and retention strategies. The Canadian Sociological Association is likewise actively involved in promoting Canadian sociology at the world stage as seen in its involvement with sessions at the American Sociological Association meetings in Montreal in 2017. We are also gearing up to host the International Sociological Association (ISA) in Toronto in 2018.

There will be a number of important opportunities for Canadian sociologists to organize and present papers at the ISA. Mark your calendars and keep your eyes open for calls for papers and other ways of getting involved. Michael Burawoy, editor of Global Dialogues, moreover, has invited a number of Canadian sociologists to comment on what our practice of the discipline can offer in non-sociological times. Contributions should appear sometime later this year.

Although the worlds appear to be in tumultuous times, sociology has an important role to play in them. It is my hope that you have a good term and continue to commit sociology!