CSA members are now entitled to a 30% discount off all Canadian Scholars' Press book purchases when you order through cspi.org. To take advantage of your discount, email the title and ISBN of your requested book to orders@cspi.org and mention your CSA membership. CSPI will automatically invoice you at 30% off the cover price. Orders can also be placed by phone at 416-929-2774 ext. 10. To view the Canadian Scholars' Press catalog, visit www.cspi.org.
Message from the President
CSA-SCS President 2016 - 2017
Dr. Howard Ramos, Dalhousie University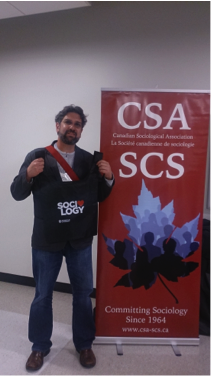 It is my hope that everyone who participated in the CSA annual conference experienced engaged academic exchange and sharing of ideas. For those who couldn't make it, you missed a great conference and I hope to see you next year at Ryerson! The associations is thankful to the Department of Sociology at the University of Calgary for being great hosts and organizing a wonderful reception and sharing great souvenirs with participants of the conference. It is also thankful to all those who organized sessions, presented papers, and attended. As we move on to the summer term it is my hope that it is productive, but also hope that everyone can also find a moment or more to enjoy some of the warmer weather and spend good times with those close to them.